Coventry Poly Double-Onyx ESD Wipes
3
Coventry Poly Double-Onyx ESD Wipes
Poly Double-Onyx™ ESD Wipes are made from 2nd generation black no-run monofilament polyester knit, providing excellent strength, absorbency and chemical compatibility. These wipers are perfect for general cleanroom and equipment maintenance, or any critical applications where lint is not tolerated. The black color makes them uniquely valuable as inspection wipes for light colored soils and dust. The conductive carbon filaments are knitted into both sides of the wipes and twice as densely packed as other ESD wipes, for maximum continuity to ground in the 107-109 range.
FEATURES & BENEFITS
Class 100 – 1000 (ISO 5-6) black, laser-sealed edge polyester wipe
Static dissipative within 10

7

-10

9

range for S20.20 compliance
Conductive material is double-sided and double-density for maximum continuity to ground
High durability for cleaning rough, abrasive, or irregular surfaces
Monofilament "no-run" construction does not release loose fibers
Excellent solvent and acid resistance
Low ionic, nonvolatile residue and particle contamination
Good absorbency
APPLICATIONS
Semiconductor Wafer Fabs
Aerospace Production Areas
Disk Drives Production Areas
Pharmaceutical / Biotechnical Production Areas
General Clean room Cleaning
Dust and Make-up Detection / Inspection
Clean static sensitive surfaces
Contact Us for Pricing
FAQ's
What Type of Industry Certifications Are Available for Conformal Coatings?
Certifications are used to separate conformal coatings from general purpose varnishes and shellacs. There are dozens of user and industry specifications, but the two major certifications are most commonly referenced: IPC-CC-830B / MIL-I-46058C This standard originated with the military standard MIL-I-46058C, which became obsolete in 1998. The civilian version IPC-CC-830B is nearly identically, so if a board passes the IPC spec it should also pass the MIL spec., and visa versa. IPC-CC-830B is a battery of tests that includes appearance, insulation resistance, UV fluorescence, fungus resistance, flexibility, flammability, moisture and insulation resistance, thermal shock, and hydrolytic stability. All Chemtronics Konform [https://www.chemtronics.com/conformal-coatings] coatings are IPC-CC-830B certified. UL746E Underwriters Laboratories (UL) is considered a credible and reliable safety certification body worldwide, and UL certification is commonly required for consumer goods. UL746E tests for electrical safety and flammable safety of the coated electronics. For electrical safety, there is a battery of tests similar to IPC-CC-830B, but with a cycling current load to constantly measure the failure of the isolative properties of the coating. The flammability test uses the UL94 standard like IPC-CC-830B, which involves attempting to light the cured coating with an open flame and observing the sustainability of the flame. Once a coating has passed UL746E, it can be registered with UL and assigned a registration number. Products certified and registered to UL746E standards can include the UL symbol (which looks like a backward "UR"). To maintain the registration, a coating much be retested annually. Konform AR Acrylic Conformal Coating [https://www.chemtronics.com/konform-ar] and Konform SR Silicone Coating [https://www.chemtronics.com/konform-sr] are both certified and registered for UL746E.
Articles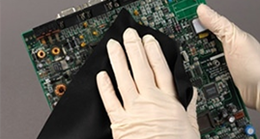 Black Polyester Cleanroom Wipes: Is It Really Clean?
The whole point of wiping a surface with a cleanroom wipe is to remove contaminants including dust, dirt, oil, greases, soot, getting the flux off and so on. But, after wiping, how clean is the surface? How can it be guaranteed? How can an operator or quality inspector be sure? Visually inspecting t...
Read This Post