Arctic Blast Freeze Spray
11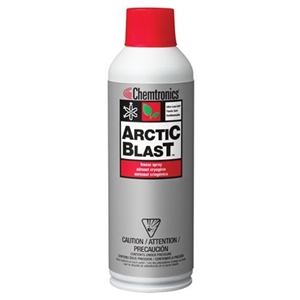 Arctic Blast Freeze Spray
Arctic Blast™ Freeze Spray is the newest class of circuit coolants, specifically formulated to quickly cool surfaces while minimizing the use of global warming compounds. It is formulated with HFO-1234ze, a new material that has a significantly lower global warming potential (GWP) than previously used materials. Arctic Blast™ Freeze Spray is nonflammable, residue-free and provides fast cooling action.
Features & Benefits
Pinpoint spray that isolates individual components without freezing surrounding areas

Rapidly cools components to -49 °F/-45 °C

Filtered to 0.2 microns - Ultra high purity

Low GWP of <1 - Low global warming impact when compared to typical freeze sprays

Plastic Safe - Will not harm plastics when liquid is sprayed onto circuits

Non-Flammable - Safe to be used around electronics

Low Toxicity - Safe to be used in a well ventilated area

Filtered to 0.2 microns - Ultra high purity, cleanest spray

Short Atmospheric lifetime - Material will break down and be eliminated from the atmosphere quickly
Applications
Cool Equipment for Testing

Dissipate Heat While Soldering or Desoldering

Isolate Thermal Intermittent Components

Test Circuit Traces for Continuity and Stress Fractures

Track Intermittent Failures and Shorts
| | |
| --- | --- |
| Shipping Name | Consumer Commodity ORM-D |
Contact Us for Pricing
FAQ's
Articles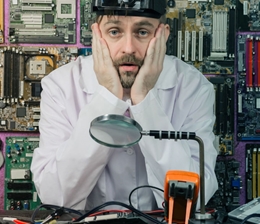 Top 12 Mistakes Made When Repairing Electronic Circuit Boards
When it comes to repairing electronic circuit boards, it's important to have the right skills, tools, and techniques to avoid making costly mistakes. Despite the best intentions, even experienced technicians can make errors that can lead to further damage to the circuit board or even render it i...
Read This Post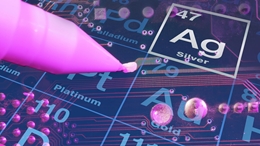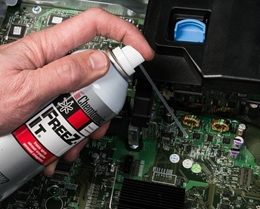 Ultimate Guide to Diagnostic Freeze Spray
Diagnosing and repairing electronics can be painstaking and sometimes frustrating work. Problems can be intermittent, with the faulty area on the PCB difficult to locate. Freeze spray is an essential tool, because it helps identify faulty components, solder joints, and other problems that can lead t...
Read This Post