Flux and Solder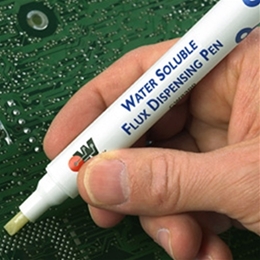 ---
Contact Us
Contact Us
Flux and Solder
*=required field
Wide Variety of Fluxes in Precise & Efficient Applicators for PCB Hand Soldering
CircuitWorks® Flux Pens provide controlled and exact applications that are generally compatible with most materials in the electronics industry. Use a flux pen to apply flux to printed circuit boards, heat sinks, chip carriers, switches, sockets and much more. CircuitWorks® fluxes are fast drying, and the applicators are completely portable and produce minimal excess flux waste. All CircuitWorks® brand fluxes and flux application tools are RoHS Compliant.CircuitWorks® Flux Dispensing Pens provide controlled and exact applications that are generally compatible with most materials in the electronics industry. CircuitWorks® Flux Pens are fast drying, completely portable and have minimal excess flux waste. All CircuitWorks® Flux Dispensing Pens are RoHS Compliant.
CircuitWorks® brand's comprehensive line of conveniently packaged and precision dispensing rework and repair products makes circuit board repair and prototyping faster, easier and more accurate. Advanced-formula materials packaged in unique delivery systems ensure superior performance and pinpoint accuracy. The full range of products meets all of the technicians needs for electronics rework and prototyping — repairing, cleaning, protecting, lubricating, bonding, and restoring electrical conductivity to circuit boards and components. CircuitWorks® Products are compliant with IPC-7711 Rework of Electronic Assemblies, and ANSI/J-STD-001.
Choose Your Product
Filter by attributes
Application
---
FAQ's
What flux should I use when replacing PCB components?
CircuitWorks® flux pens are available with a variety of fluxes to fit your specific shop requirements, including: no-clean, high temperature no-clean for lead-free soldering, rosin, and water soluble. Flux pens are an excellent way to dispense flux for benchtop soldering. You just hold the pen vertically and briefly depress the tip to start the liquid flow. This will saturate the tip of the pen with flux. Draw flux on the area to be soldered. Gently press the tip again when more flux is needed to keep the tip damp with flux.
Can I add my own flux to solder wick?
In a production or repair environment where the flux is specified and can't be changed, or when an aqueous flux is needed, you can add your own flux to this type of braid. Unfluxed wick will not remove solder unless flux is added. Different types of fluxes are available in pen packaging, which is ideal for fluxing braid.
Articles
---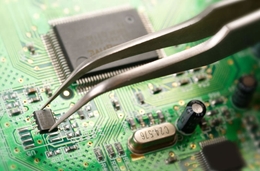 Ultimate Guide to Benchtop PCB Rework & Repair
The reality is that no soldering operation produces perfect assemblies every time. Even the highest quality components fail from time-to-time. That's why understanding the best rework and repair methods and materials is so important for those who manufacture, maintain, or repair printed circ...
Read This Post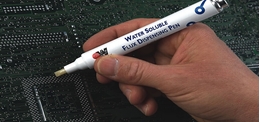 Why Flux Pens Make PCB Repair Easier
Flux is needed to prevent oxidation that tends to form when hot metals come in contact with the air. During printed circuit board repair and soldering, it's common to see liquid flux from the wave soldering equipment poured into jars and applied with an acid brush. More is better, right? W...
Read This Post