PCB Repair & Prototyping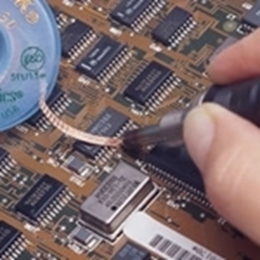 ---
Contact Us
Contact Us
PCB Repair & Prototyping
*=required field
Chemtronics® is the leading manufacturer of electronic circuit board and PCB repair products. Top-selling brands include CircuitWorks® benchtop repair and PCB prototyping tools, Soder-Wick® desoldering braid, and Chem-Wik® desoldering braid. These products are engineered to make your circuit board and PCB repair process more efficient and effective.
Desoldering Braid
Chemtronics offers two of the top brands of desoldering braid in the industry to meet your every requirement. Soder-Wick®, the world's leading brand of desoldering braid, is the fastest, cleanest and safest braid in the industry. It significantly reduces rework/repair time and minimizes the risk of heat damage to the board. Its geometrically precise weave design allows for maximum capillary action and solder capacity. Soder-Wick® and Chem-Wik® Desoldering Braid optimize heat transfer through the braid and into the solder joint, resulting in faster wicking action than any other competitive brand. Minimal flux residue on the board speeds up the cleaning process, or eliminates it entirely.
CircuitWorks® PCB Repair and Prototype Tools
Comprehensive line of conveniently packaged and precision dispensing rework and PCB repair products makes circuit board and PCB repair and prototyping faster, easier and more accurate. Advanced-formula materials packaged in unique delivery systems ensure superior performance and pinpoint accuracy. The full range of products meets all of the technicians needs for electronics rework and prototyping — repairing, cleaning, protecting, lubricating, bonding, and restoring electrical conductivity to circuit boards and components.
Choose Your Product
Filter by attributes
Application
---
FAQ's
Articles
---