PCB Repair & Prototyping
Ask us how we can improve your process.
Chemtronics® is the leading manufacturer of electronic circuit board and PCB repair products. Top-selling brands include CircuitWorks® benchtop repair and PCB prototyping tools, Soder-Wick® desoldering braid, and Chem-Wik® desoldering braid. These products are engineered to make your circuit board and PCB repair process more efficient and effective.
Desoldering Braid
Chemtronics offers two of the top brands of desoldering braid in the industry to meet your every requirement. Soder-Wick®, the world's leading brand of desoldering braid, is the fastest, cleanest and safest braid in the industry. It significantly reduces rework/repair time and minimizes the risk of heat damage to the board. Its geometrically precise weave design allows for maximum capillary action and solder capacity. Soder-Wick® and Chem-Wik® Desoldering Braid optimize heat transfer through the braid and into the solder joint, resulting in faster wicking action than any other competitive brand. Minimal flux residue on the board speeds up the cleaning process, or eliminates it entirely.
CircuitWorks® PCB Repair and Prototype Tools
Comprehensive line of conveniently packaged and precision dispensing rework and PCB repair products makes circuit board and PCB repair and prototyping faster, easier and more accurate. Advanced-formula materials packaged in unique delivery systems ensure superior performance and pinpoint accuracy. The full range of products meets all of the technicians needs for electronics rework and prototyping — repairing, cleaning, protecting, lubricating, bonding, and restoring electrical conductivity to circuit boards and components.
Choose Your Product
---
FAQ's
Articles
---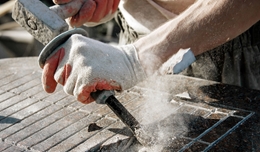 When Mistakes Happen… How to Remove Epoxy
In technical support, we receive calls almost every week asking how to dissolve conductive bonds made with CircuitWorks Conductive Epoxy (part #CW2400). The best advice I can give is to physically remove the cured material by sanding, scrapping or chipping the epoxy away. Unfortunately, we have no...
Read This Post

12 Easy Tips to Improve Your PCB Desoldering Today
The reality is that no soldering operation produces perfect assemblies every time. Even the highest quality components fail from time-to-time. That's why desoldering is so important for those who manufacture, maintain or repair printed circuit boards (PCBs). The chal...
Read This Post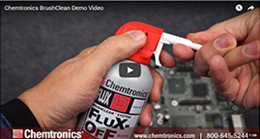 Spot Cleaning Flux Residues Using BrushClean™ System
Chemtronics® manufactures a large variety Flux-Off® brand solder flux residue removers to satisfy many different requirements, for example if the cleaner needs to be nonflammable, safe on sensitive plastics, or have extra cleaning strength. Many Flux-Off cleaners are avail...
Read This Post