Chempad Isopropyl Alcohol Electronics Wipes
8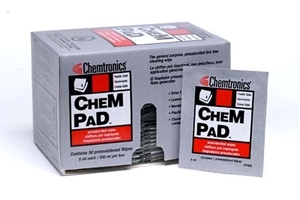 Chempad Isopropyl Alcohol Electronics Wipes
Chempad® Presaturated Wipes are general purpose lint-free cleaning felt wipes that are super saturated with 91% isopropyl alcohol (IPA). They are excellent for general purpose cleaning of computers, office and laboratory equipment. These highly effective cleaning wipes are ideal for cleaning sensitive surfaces, fiber optic connectors, electronics components, touch keypads, keyboards, instrument housings, and magnetic tape heads. Chempad® quickly and safely removes handling soils, dirt and oxides from PCB's, mechanical / electrical assemblies and other electronic equipment. Chempad® is especially effective in removing ink and permanent marker.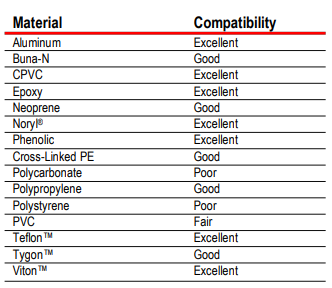 Features & Benefits
Contains ultra pure blend of 91% IPA/9% deionized water

Thick, non-abrasive, wiping pad

Solvent evaporates completely, leaving no residue

Non-abrasive, safe on plastics

Ideal cleaning wipe for field service of computers, office equipment and electronics

Cleans dirt, oxides, and oil from optical and magnetic tape heads
Applications
Ideal for cleaning computers, office equipment, fiber optic connectors and instruments, and electrical equipment

Cleans dirt, oxides and oil from magnetic and optical heads
| | |
| --- | --- |
| Shelf Life | 2 yrs |
| Shipping Name | Wipes |
Contact Us for Pricing
FAQ's
Articles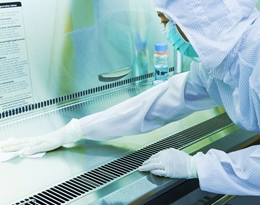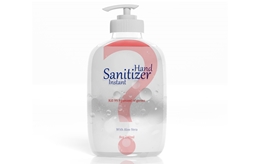 How to avoid products with methanol contamination
The FDA has issued a warning about methanol contamination in over 75 different hand sanitizers on the market. Methanol is a toxic alcohol that can contaminate other safer alcohols commonly used for disinfecting hard surfaces: ethanol (aka ethyl alcohol) and isopropanol (aka isopropyl alcohol, IPA).&...
Read This Post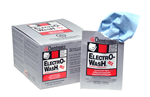 Electro-Wash MX Presaturated Wipe
Extra-strength plastic safe universal cleaner with moderate evaporation time