Coventry Cleanroom Chamois
2
Coventry Cleanroom Chamois
The Cleanroom Chamois™ is the only wipe made from a 50/50 nylon/polyester microfiber blend providing superior toughness and particle entrapment. The microfibers in the Cleanroom Chamois™ have a unique wedge shape, which lifts all types of contaminants from the surface more effectively than conventional round fibers. Cleanroom Chamois™ are laundered in our Class 10 (ISO Class 4) cleanroom, and are available with our exclusive laser-edge sealing process (LE).
Features & Benefits
50/50 nylon/polyester microfiber blend (Ultra absorbancy)

More thoroughly removes all solvent and contaminants from clean room surfaces

Construction provides superior strength and abrasion resistance allows relaundering and reuse to save money

Saves time - replaces 10 standard polyester wipers

Increased number of microspaces trap more particles, regardless of wet or dry wiping

Excellent particle entrapment

High absorbency capacity

Low non-volatile residue (NVR)

Sealed edges insure low particulate levels

Wedge shaped Fibers act as small squeegees for superior surface contact
Applications
Cleanrooms

Semiconductors

Disk Drive

Aerospace

Optical Lenses
| | |
| --- | --- |
| Shelf Life | 2 Yrs |
| Shipping Name | Wipes |
Contact Us for Pricing
Articles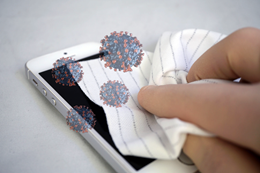 How to safely clean your mobile devices
The Coronavirus/COVID-19 pandemic has drawn attention to cleaning and disinfecting personal mobile devices. That intuitively makes sense, because we are constantly handling our phones and then pressing them against our face, close to our mouth and nose. The importance of keeping our hands away fro...
Read This Post