Fiber Optic Connector Cleaning Swabs
3
Fiber Optic Connector Cleaning Swabs
A wide variety of swabs are available that are designed specifically to clean fiber optic connectors. Swabs are constructed without adhesives and binders, and made of low linting materials to avoid bandwidth-robbing contamination.
Features & Benefits
May be used wet or dry to remove dirt and oil contamination

Free of fibers, seams, hard surfaces. bionders and adhesives

Can be used with Electro-Wash® PX or CZ solvent cleane
Applications
Clean fiber optic end faces and alignment sleeves

Removal of slurry from ferrule polishing fixtures

Clean test ports
---
1.25mm Fiber Optic Cleaning Swabs
The 1.25 mm Fiber Optic Sleeve Cleaning Swab is ideally suited for cleaning contamination from 1.25 mm fiber optic sleeves, back planes and polishing pucks. The 1.25 mm diameter polyester tip fits tightly and conforms to the inside of all 1.25 mm mating sleeves, adapters and slurry polishing fixtures. US Patent 6,795,998 and foreign patents.
---
2.5mm Economical Foam Swab
The 2.5mm Fiber Optic Foam Swab is an excellent choice for FTTH, CO, or Data Com applications. While some foam can generate particles, this swab is manufactured with a tough, medical-grade urethane foam that provides excellent particle entrapment, and has resulted in millions of successful cleaning operations.
Flexible swab head conforms to connector face

Open-cell structure gives the best solvent holding capacity, enables less solvent to do more work
---
2.5mm Precision Fiber Optic Swabs
Engineered to quickly and easily clean all 2.5 mm connector end-faces and alignment sleeves, this swab is made from proprietary microporous foam that immediately absorbs oil and solvents from fiber surfaces.
Head conforms to a connector face

Wrapped foam swabs provide outstanding particle entrapment; captures contaminants from alignment sleeves and keeps them from being transferred to the back plane end face

Patented — U.S. Patent numbers 6523908 and 6393651 and foreign patent
---
MTP Connector Cleaning Swabs
Cleaning swab features an exclusive chamois material engineered to quickly and safely clean MTP connectors. The material has super absorption which pulls soils and solvents from end faces even in deeply recessed MTP connections where wiping is difficult.
---
SFF Flat Connector Swab
Flat swab head enables both wet and dry cleaning simultaneously. Swab provides outstanding particle entrapment. No adhesives, binders, or fibers to leave residues.
---
SFF High Density Connector Swab
Soft swab head conforms to connector face and alignment pins. Provides outstanding particle entrapment, does not generate particles. Strongest seams available, will not split even with rigorous scrubbing. No adhesives, binders, or fibers to leave residues.
CLICK FOR DIAGRAM
---
CLICK HERE FOR SWAB SELECTION GUIDE
| | |
| --- | --- |
| Shelf Life | 2 Yrs |
| Shipping Name | Swabs |
Contact Us for Pricing
Articles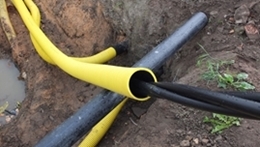 Essential Guide to Cable Cleaning
Running cable can be a messy business, so cleaning is an important consideration for both high voltage and communication cable installations. When the failure point can be in a wall, underground, or hundreds of feet underwater, a high-quality installation is particularly important. What follows are ...
Read This Post
#1 Fiber Optic Cleaning Solution for a #2 Problem
CASE STUDY: Fiber Optic Connector Failures at a Waste Incineration Plant At Chemtronics, we offer cleaning solutions for the messiest problems, and it doesn't get messier than a waste incineration facility. You may not realize this, but when you send a message through our website, it isn&rsq...
Read This Post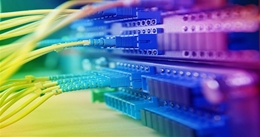 How To Clean and How Not to Clean Fiber Optic Connectors
Why is it important to clean fiber optic connectors? The ability to transmit enormous amounts of data over long distances in a flash is a distinct advantage of fiber optic cables. Fiber installers; however, must ensure that contamination on the fiber connectors is minimized in order to stay wi...
Read This Post