Flux Removers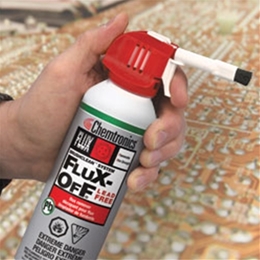 ---
---
Contact Us
Contact Us
Flux Removers
*=required field
Water Soluble
Chemtronics flux off removers compressed air offer a proper maintenance to ensure reliable circuitry. Not only unsightly, some flux residue can promote short circuits and corrosion, degrading or destroying the printed circuit board. The type of flux to be removed, solvent compatibility and ease of application are all factors to consider when choosing the appropriate product. Flux-Off® is available in aerosol, BrushClean™ System, and liquid form for vapor degreasers, spray systems, ultrasonics, and dip tank applications.
Flux-Off® products are specially formulated to remove all types of rosin (types R, RA, and RMA), no-clean, water-soluble and synthetic (type SA) flux. Flux remover spray can spray in any direction, even upside down. Look for the "All-Way Spray" icon on the can.
Flux removers are recommended for:
Post-solder operations

PC boards

Sensitive circuit components

component leads

SMD pads

Chip carriers

Plugs

Sockets and heat sinks

Thru-hole and SMT devices.
Choose Your Product
Filter by attributes
Cleaning Method
Plastic Sensitivity
(Choose One)
Environmental - Safety
Flux Type
---
FAQ's
Articles
---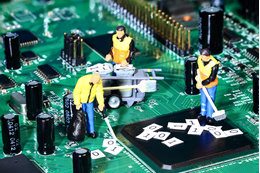 Ultimate Guide to Cleaning Electronics
In the process of assembling, reworking or repairing printed circuit boards (PCB) for electronic devices, the discussion inevitably turns to whether or not to clean the PCB. Cleaning adds time and expense to the process, and doing it wrong can cause more harm than good. This guide will walk you ...
Read This Post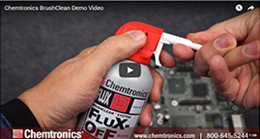 Spot Cleaning Flux Residues Using BrushClean™ System
Chemtronics® manufactures a large variety Flux-Off® brand solder flux residue removers to satisfy many different requirements, for example if the cleaner needs to be nonflammable, safe on sensitive plastics, or have extra cleaning strength. Many Flux-Off cleaners are avail...
Read This Post