Chem-Wik Rosin Flux Desoldering Wick
7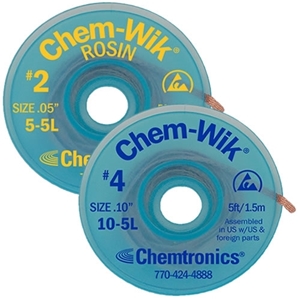 Chem-Wik Rosin Flux Desoldering Wick
Chem-Wik® Desoldering Wick ensures fast and safe desoldering with ultra-pure, oxygen-free copper braid that quickly and completely removes solder from circuit boards and components. Its fast wicking action protects components from harmful heat damage.
All wick is sealed in nitrogen-purged packaging to avoid corrosion and loss of performance from moisture and oxygen.
Related Content: Desoldering Braid Tips & Tricks
Features & Benefits
Chem-Wik® Rosin 5' spools packaged in ESD-safe static dissipative bobbins

Requires little or no post solder cleaning, no corrosive residues

Optimized weave design for faster wicking and heat transfer

Halide free

Coated with ultra high purity, noncorrosive Type R rosin flux

Quickly and thoroughly removes solder

Fast wicking action protects components from harmful heat damage
Applications
Chem-Wik® Rosin desoldering braid safely removes solder from:

Thru-hole Components

Surface Mount Device Pads

BGA Pads

Micro Circuits

Terminals

Lugs and Posts

Identification Script
Specifications
MIL-F-14256F Type R

NASA STD-8739.3 Soldered Electrical Connections

ANSI/IPC J STD-004, Type ROL0

DOD-STD-883E, Method 2022
Specifications

• Mil-F-14256F Type R
• NASA SP-5002 Soldering Electrical Connections
• DOD Standard 1686B and DOD Handbook 263
• NASA NHB 5300.4 (3A-1) Reliability and Quality Assurance Publication
• NASA NPC 200-4 Quality Publication
• DOD Handbook 263
• DOD Standard 1686
• Bellcore TR-NWT-00078
• ANSI/IPC J STD-004, Type ROL0
• MIL-STD-1686C
• MIL-HDBK-263B

NSN
7-5L - 3439-00-009-2334
Shelf Life
2 Yrs
Shipping Name
Copper Wire
Contact Us for Pricing
FAQ's
Articles

12 Easy Tips to Improve Your PCB Desoldering Today
The reality is that no soldering operation produces perfect assemblies every time. Even the highest quality components fail from time-to-time. That's why desoldering is so important for those who manufacture, maintain or repair printed circuit boards (PCBs). The chal...
Read This Post