Chemtronics Micropoint Cottontip Swabs
1
Chemtronics Micropoint Cottontip Swabs
The Cottontips™ MicroPoint Cotton Swab consists of cotton fibers which are tightly wrapped around a handle. The handle of this swab is made from a special, clean room grade composite material. Because of the tightly wrapped head, there is very little linting. These cotton swabs have excellent absorbency, as well as high strength especially when saturated with water. This swab is designed for cleaning applications where absorbency is critical.
Features & Benefits
Tightly wrapped cotton head construction

Small size for delicate precision cleaning

Extremely low linting

High absorbency capacity and rate

Good solvent compatibility

Sharp point

Non-static generating
Applications
Cleaning surfaces, removing flux residues, removing contaminants

Applying oils, adhesives, fluxes and lubricants
| | |
| --- | --- |
| Shelf Life | 5 yrs. |
| Shipping Name | Swabs |
Contact Us for Pricing
Articles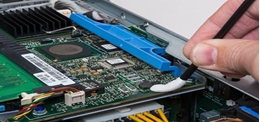 Choosing the Best Swab for Aggressive Solvents
In precision cleaning applications, swabs can be used on their own to remove contamination. However, more often swabs are used together with a solvent to remove contamination. The success of the cleaning effort depends in part on the compatibility between the swab and the cleaning solvent. Usi...
Read This Post