Soder-Wick Lead-Free Desoldering Wick
8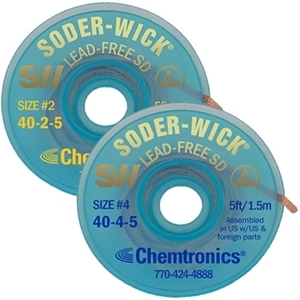 Soder-Wick Lead-Free Desoldering Wick
Soder-Wick® Lead-Free desoldering wick is the state of the art in desoldering technology. It is specially designed for removal of today's high-temperature lead-free solders. The single layer weave used for Soder-Wick® Lead-Free desoldering wick is lighter in mass than any other desoldering wick available and allows for lead-free solder removal at lower temperatures. Soder-Wick® Lead-Free desoldering wick responds faster than any other conventional desoldering braid. This unique design minimizes overheating and requires less "contact" time thus preventing heat damage to the PCB and sensitive components. For Lead-Free rework, Soder-Wick® has the answer.
All wick is sealed in nitrogen-purged packaging to avoid corrosion and loss of performance from moisture and oxygen.
Related Content: Desoldering Braid Tips & Tricks
Features & Benefits
Engineered specifically for high temperature, lead-free solders

Transfers heat to the solder joint more quickly and efficiently than conventional desoldering braids

Specifically designed for all lead-free solders

Can also be used with Tin/Lead solders

Soder-Wick® Lead-Free packaged in ESD-safe static dissipative bobbins

Minimizes the risk of damage associated with static electricity

Non-corrosive ultra high purity no-clean flux

Will not leave ionic contamination on the boards

Especially effective at removing residual solder from SMT pads

RoHS Compliant

Patent Pending
Applications
Soder-Wick® Lead Free safely removes solder from all lead free applications
Specifications:
MIL-F-14256 F

NASA-STD-8739.3 Soldered Electrical Connections

DOD-STD-883E, Method 2022

ANSI/IPC J STD-004, Type ROL0
Specifications

ANSI/IPC J STD-004 Type ROL0
MIL-F-14256 F
MIL-STD-883B
Bellcore TR-NWT-000078
ANSI/IPC J SF818
MIL-STD-1686C
MIL-HDBK-263B
MIL-B-81705C
MIL-STD-2000A
P8254385-118

Shelf Life
2 Yrs
Shipping Name
Copper Wire
Contact Us for Pricing
FAQ's
Articles

12 Easy Tips to Improve Your PCB Desoldering Today
The reality is that no soldering operation produces perfect assemblies every time. Even the highest quality components fail from time-to-time. That's why desoldering is so important for those who manufacture, maintain or repair printed circuit boards (PCBs). The chal...
Read This Post