Non-Flammable Water based Splice Prep & Equipment Maintenance Kit
5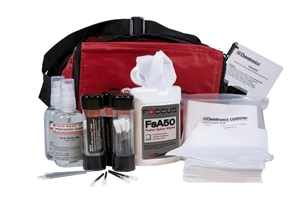 Non-Flammable Water based Splice Prep & Equipment Maintenance Kit
In the Non-Flammable Kit, Chemtronics has included only the cleaning supplies necessary for Splice preparation & maintenance. The Water Based Fiber Optic Cleaning Kit contains two Fiber-Wash AQ 100ml liquids and Lint-Free Wipes to perform the Combination Cleaning process.
Use the swabs and wipes with the Fiber-Wash AQ Liquid to clean the fusion splicer, especially the mirror and V-groove. Swabs are also included for cleaning ferrules, alignment sleeves and backplane connections. FSA50 Pre-wetted Wipes are included for tool, cable and Fiber preparation.
The swabs are packaged in rugged tubes for field operations.The kit bags are made from tough nylon for long life.
This Kit Includes:
2 Fiber-Wash™ AQ Precision Fiber Optic Cleaning Liquid 100ml (

FW2190

)
200 Coventry Econowipes 45/55 cellulose/polyester (10cmx10cm) (

6704F

)
50 Fusion Splice Presaturated Wipes in mini tub (7.6cmx7.6cm) (

FSA50

)
50 V-Groove and Ferrule Cleaning Swabs (

38542F

)
30 Fusion Splice Mirror Cleaning Swabs (

51125F

)

1 Rugged Bag with carabineer attachment

1 Instructions
CLICK HERE TO REVIEW THE FIBER OPTIC SELECTION GUIDE

Non-flammable aqueous cleaner.

Removes a broad range of soil; dust, oils, soils, complex soils, salts and other contaminants.

Dissipates static charge, which can attract airborne contaminants.

Compatible for all fiber optic connectors.
Contact Us for Pricing