7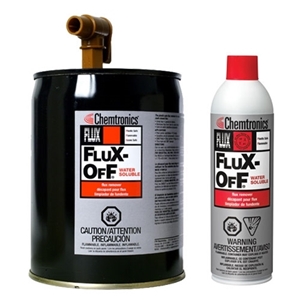 Flux-Off Water Soluble
The Flux-Off® Water Soluble is a proprietary blend of powerful cleaning solvents. This defluxing agent removes R, RMA, RA, OA, and synthetic flux residues, as well as ionic and non-ionic soils.
Features & Benefits
Safe on plastics

Evaporates quickly, leaves no residues

Also removes R, RMA, RA, and synthetic flux residues

Penetrates hard to reach areas

Excellent material compatibility

Non-corrosive formulation

Flammable

All-Way Spray valve - even sprays upside down
Applications
Cleans water soluble fluxes

Safe for use on water sensitive components

Also cleans rosin-based flux
| | |
| --- | --- |
| Shelf Life | 5 yrs. unopened and 2 yrs. opened |
| Shipping Name | Flammable Liquid |
| Call-outs | Ford - 038575 |
Contact Us for Pricing
FAQ's
Articles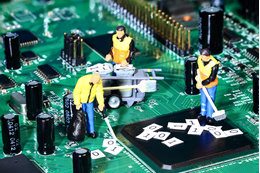 Ultimate Guide to Cleaning Electronics
In the process of assembling, reworking or repairing printed circuit boards (PCB) for electronic devices, the discussion inevitably turns to whether or not to clean the PCB. Cleaning adds time and expense to the process, and doing it wrong can cause more harm than good. This guide will walk you ...
Read This Post