3
Flux-Off Rosin
The Flux-Off® Rosin formulation is a fast drying aerosol that quickly and completely removes R, RMA, RA, and synthetic flux residue. With its low surface tension and superior wetting properties, Flux-Off® Rosin removes harmful residues in tight tolerance areas.
Available with The BrushClean™ System - Gentle scrubbing action of a brush combined with high performance flux remover. Click here for more information.
Features & Benefits
Safe on plastics

Removes all rosin-based fluxes

Removes ionic and non-ionic activators

Dries fast

Leaves no residue

Flammable

All-Way Spray valve - even sprays upside down

Available with BrushClean™ System
Applications
Cleans type R, RMA, RA and Rosin-based no-clean flux
| | |
| --- | --- |
| Specifications | NSN # 6850-01-418-0499 |
| Call-outs | Ford - 134352 |
| Shelf Life | 5 yrs. |
| Shipping Name | Consumer Commodity ORM-D |
Contact Us for Pricing
FAQ's
Is there something I can do with the extension tube (straw) so it doesn't get lost?
The red cap on Chemtronics aerosol products like flux removers, degreasers, and Freeze-It Freeze Spray has a notch on the top. That is engineered for the straw to snap in and hold into place so you don't loose it. The aerosol trigger sprayers that are common on dusters, freeze sprays, and flux removers, have two ways to store the straw when not in use. The hole at the back of the body of the sprayer is just the right size for the straw to slide into place for storage. The slot below the trigger is also the right size for the straw to snap into place, which also has the advantage of locking the trigger.
How do I figure out the shelf life of a product?
The shelf life of a product can be found on either the technical data sheet (TDS), available on the product page, or by looking on the certificate on conformance (COC). The COC can be downloaded by going to https://www.chemtronics.com/coc. Once you have the shelf life, you will need to add it to the manufacture date for a use-by date. The manufacture date can be identified by the batch number. The batch code used on most of our products are manufacture dates in the Julian Date format. The format is YYDDD, where YY = year, DDD = day. For example, 19200 translates to the 200th day of 2019, or July 19, 2019. This webpage explains and provides charts to help interpret our batch numbers: https://www.chemtronics.com/batch-codes.
Articles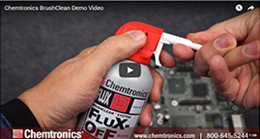 Spot Cleaning Flux Residues Using BrushClean™ System
Chemtronics® manufactures a large variety Flux-Off® brand solder flux residue removers to satisfy many different requirements, for example if the cleaner needs to be nonflammable, safe on sensitive plastics, or have extra cleaning strength. Many Flux-Off cleaners are avail...
Read This Post