Repair and Prototype Tools
Repair and Prototype Tools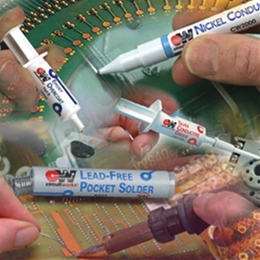 ---
Contact Us
Contact Us
Repair and Prototype Tools
*=required field
Fast & Convenient PCB Repair and Prototyping at Your Benchtop
CircuitWorks® brand's comprehensive line of conveniently packaged and precision dispensing rework and repair products makes circuit board repair and prototyping faster, easier, and more accurate. Advanced-formula materials packaged in unique delivery systems ensure superior performance and pinpoint accuracy. The full range of products meets all of the technician's needs for electronics rework and prototyping — repairing, cleaning, protecting, lubricating, bonding, and restoring electrical conductivity to circuit boards and components.
CircuitWorks® Products are compliant with IPC-7711 Rework of Electronic Assemblies and ANSI/J-STD-001.
Conductive Inks & Epoxies
A common method of repairing a broken trace is to solder on a jumper, which is a wire bypass around the broken trace. This can be time-consuming and visually unappealing. Chemtronics offers CircuitWorks® Conductive Pens, which contain a highly conductive material like silver or nickel suspended in a liquid polymer. These pens allow you to redraw the trace. 2-part conductive epoxy is a great solution for making solderless electronic connections. CircuitWorks Conductive Paint is a single component, a silver-filled polymer that dries in minutes at room temperature, making it an ideal solution for patching EMI/RFI shielding.
Cleaning pens remove unsightly and corrosive flux residues from solder joints. The Mighty Pen is a universal cleaner that is ideal for removing QC fault labels and markings, including from Sharpie-type markers. Conformal Coating Remover Pan provides a precise method of stripping conformal coating around PCB repair areas.
Flux pens are valved, prefilled pens of flux. Flux pen avoids the mess and hassle involved in filling your flux bottles. A flux dispensing pen contains the flux in the airtight barrel of the pen. Flux pens are an excellent way to dispense flux for benchtop soldering. Tacky flux is a viscous, pasty form of flux that is easy to place without it spreading into surrounding areas the way a liquid flux can. It can be used to hold small parts in place before soldering and is common in the manufacture and repair of SMT components. Tacky fluxes in syringe dispensers provide for dispensing convenience similar to a pen in situations where a tacky flux better fits the application.
Thermal paste maximizes heat transfer between circuit components and heat sinks without electrical conductivity.
Repair scratches and chips in PCB solder resist with Overcoat Pens. They are available in multiple colors, to match the current overcoat as much as possible. Overcoat Epoxy provides rugged repairs that can reinforce PCB areas with more structural cracks.
Gold Guard Pen cleans and lubricates gold finger connectors to eliminate intermittent connectivity failures and prevent oxidation. Silver Conductive Grease fills connector gaps to maximize electrical and thermal conductivity.
Categories
Choose Your Product
Filter by attributes
Application
---
FAQ's
Articles
---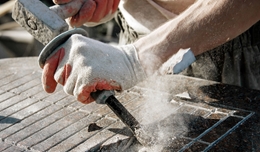 When Mistakes Happen… How to Remove Epoxy
In technical support, we receive calls almost every week asking how to dissolve conductive bonds made with CircuitWorks Conductive Epoxy (part #CW2400). The best advice I can give is to physically remove the cured material by sanding, scrapping or chipping the epoxy away. Unfortunately, we have no...
Read This Post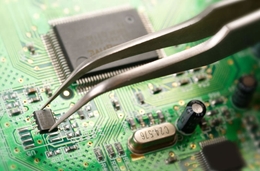 Ultimate Guide to Benchtop PCB Rework & Repair
The reality is that no soldering operation produces perfect assemblies every time. Even the highest quality components fail from time-to-time. That's why understanding the best rework and repair methods and materials is so important for those who manufacture, maintain, or repair printed circ...
Read This Post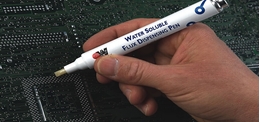 Why Flux Pens Make PCB Repair Easier
Flux is needed to prevent oxidation that tends to form when hot metals come in contact with the air. During printed circuit board repair and soldering, it's common to see liquid flux from the wave soldering equipment poured into jars and applied with an acid brush. More is better, right? W...
Read This Post