Fiber Optic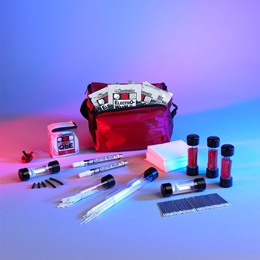 ---
Contact Us
Contact Us
Fiber Optic
*=required field

Cleaning Products for Fiber Optics
Connecting At The Speed Of Light™
Chemtronics® is the industry leader for fiber optic cleaning products, providing performance, convenience, time savings, and cost savings. Cleaning fiber optic connectors is fast, easy, and reliable with our highly engineered solvents, lint-free swabs, precision wipes, and cleaning platforms.
Importance of Fiber Optic Cleaning
Transmission speeds and data capacities are measured in gigabytes, terabytes, petabytes, and beyond as networks evolve beyond copper to fiber optics. This requires well-trained technicians with effective cleaning processes and materials – the critical first step before test and deployment. A cleaning process must be effective on a wide variety of contamination and across all zones of the end face, or the resulting interference will negatively impact transmission rates and reliability.
Choose Proven Products and Processes
Testing and field experience consistently shows the Combination Cleaning™ process in conjunction with FOCCUS™ fiber optic cleaning products provide proven effectiveness with maximum repeatability. FOCCUS™ cleaning platforms, swabs, and kits are available to clean all types of connectors including SC/LC UPC and APC, OptiFit™, MT-Types, e2000™, and various expanded beam geometry. Go to page 5 for more details on the Combination Cleaning™ process.
The Advantages of FOCCUS™ Fiber Optic Products and Combination Cleaning™:
Reduce backscattering and reflectance caused by contamination

Increase transmission rates

Save time & money replacing connectors

Improve quality, reduce cost
Categories
Choose Your Product
Filter by attributes
Connector Type
FO Applications
Product Type
---
Articles
---