CCT FOCCUS Fiber Optic Cleaning Kit
4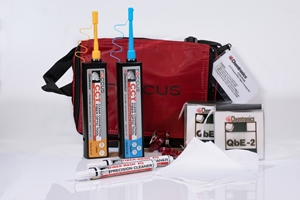 CCT FOCCUS Fiber Optic Cleaning Kit
In the CCT FOCCUS Fiber Optic Cleaning Kit, Chemtronics has included only the necessary cleaning supplies for making a successful 1.25mm and 2.5mm fiber optic connection. The Kit contains a Fiber-Wash AQ Cleaning Pens and a QbE2 Cleaning Platform to perform the Combination Cleaning process.
Fiber-Wash Pens are a non-flammable, water-based cleaning solution that quickly and safely cleans the end face of fiber optic connectors. It also dissipates static charge, which prevents attracting airborne contamination that cling to the end face surfacing. For the best results, use with the QbE2 Cleaning Platform and the Combination Cleaning Process.
CCT Tools are the easy to use cleaning tool for fast and reliable end face cleaning. The CCTs use a mechanism that advances fabric over a cleaning tip with just a short and precise push and click of the tool. Using the CCT in combination with the Fiber-Wash AQ Cleaning Pen provides for fast, easy and repeatable Combination Cleaning.
QbE2 wipes are 100% non-contaminating material. These wipes have high absorbency and contamination entrapment capacity, as well as high wet strength
CCT FOCCUS Fiber Optic Cleaning Kit includes:
1 Fiber Optic End Face Cleaning Tool for up to 800 cleans 1.5 mm (CCT-125)

1 Fiber Optic End Face Cleaning Tool for up to 800 cleans 2.5 mm (CCT-250)

2 QbE™2 Compact Cleaning Platforms, 200 sheets (QbE™2)

Fiber-Wash™ AQ Precision Fiber Optic Cleaning Pens (FW2190)

100 Coventry Econowipes 45/55 cellulose/polyester (10cmx10cm) (6704F)

1 Rugged Bag with carabineer attachment

1 Instructions
CLICK HERE TO REVIEW THE FIBER OPTIC SELECTION GUIDE

Excellent solvent resistance

Excellent particle entrapment

High absorbency capacity and rate

Very low solvent extractables

High wet strength
QbE2 wipes are generally compatible with most common solvents such as isopropyl alcohol, methanol and ketones such as acetone or methyl ethyl ketone. These wipes are generally compatible with dilute or weak acids.
Contact Us for Pricing