Chemtronics Introduces FsA50 Fusion Splice Wipes
Fusion Splice Wipes are the conveniently packaged wipes for a variety of applications. Available as presaturated wipes with an aqueous cleaning solution, these wipes are soft, low-linting and perfect for cleaning small areas.
Perfect for safe travel and easy transportation

Non-scratching, low-linting, soft and absorbent

Non-Flammable, Plastic safe

Compact size ideal for tool kits, cleaning kits, congested work benches and tight workspaces

FsA50 features Fiber-Wash™ AQ cleaning solution
As the FsA75 will no longer be available, the FsA50 will be a direct alternative for the FsA75. The key difference is that each wipe of the FsA50 will be 3.5" x 4.3" (9 cm x 11 cm) rather than the FsA75 wipe of 3" x 3" (7.6 cm x 7.6 cm), therefore resulting in total more wipe substrate for the end user. Please see the full comparison down below.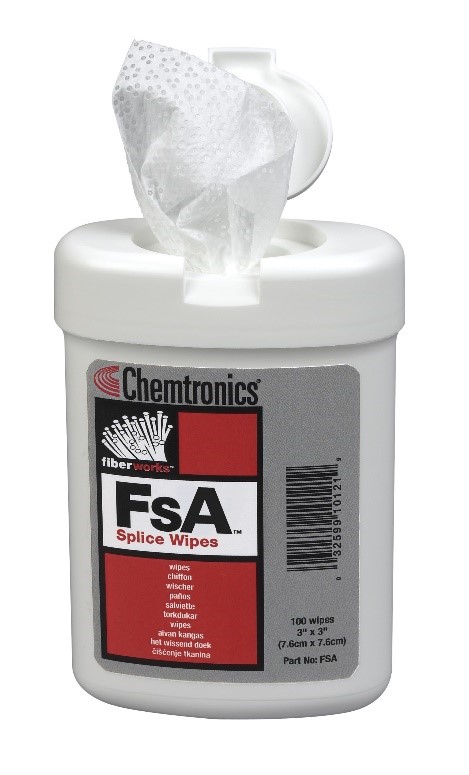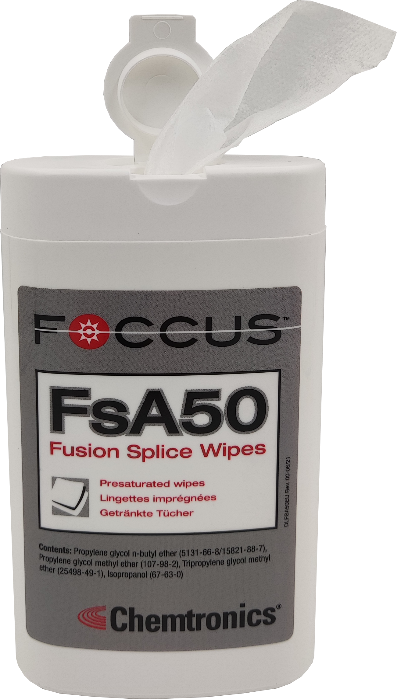 FsA75 FsA50
Product Details: Product Details:
75 presaturated wipes per tub 50 presatured wipes per tub
3" x 3" (7.6 cm x 7.6 cm) 3.5" x 4.3" (9 cm x 11cm)
12 tubs per case 32 tubs per case
The FsA75, included in the Chemtronics Fiber Optics Kits, will also be replaced by the FsA50. This will affect the following kits:
FSK1000E, Fusion Splice Prep and Equipment Maintenance Kit
FSK1002E, Water Based Splice Prep and Equipment Maintenance Kit
For additional information, safety datasheets & technical datasheets, please take a look at our website at: https://www.chemtronicseu.com/fusion-splice-wipes
In case of questions, please contact your Regional Sales Manager or contac us.