Contact Cleaners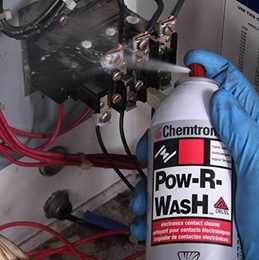 ---
---
Contact Us
Contact Us
Contact Cleaners
*=required field
Cleaning Power & Safety
A contact cleaner (also called electrical cleaner, switch cleaner, electrical contact cleaner, and specific for automotive repair, battery terminal cleaner) is a solvent cleaner designed to remove contamination from electrical contacts, the conductive surfaces of connectors, switches, and other electrical and electronic components with moving surface contacts.
The goal is to remove insulative contamination as quickly as possible, avoiding a lot of wiping and scrubbing if possible. Contact cleaning solvents usually come in pressurized aerosol packaging for convenience and to provide a forceful spray that creates agitation and reaches into all the crevices of the connectors.
Chemtronics offers a large selection of aerosol electrical contact cleaners under the Pow-R-Wash™ brand, which ranges from economical heavy-industry cleaners to high precision solvents for sensitive components.
No Chemtronics contact cleaner contains toxic solvents like nPB, TCE, and Perc. While you still should pay attention to label warnings, SDS, and wear adequate personal protection equipment (PPE), the requirements will not be as over-the-top to stay within a safe range of exposure.
Choose Your Product
Filter by attributes
Dielectric Breakdown
Plastic Sensitivity
(Choose One)
Flammability
Environmental - Safety
---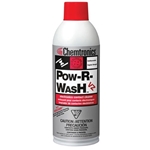 Pow-R-Wash VZ
A general purpose, nonflammable electronic contact cleaner that is safe for use on some plastics.
---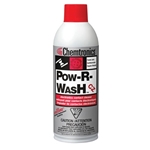 Pow-R-Wash CZ
The safest contact cleaner formulation for plastics. Recommended for users working with applications that contain sensitive plastics.
---
FAQ's
Articles
---